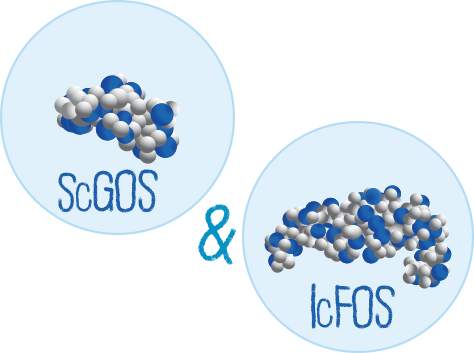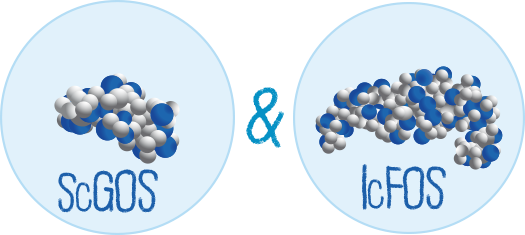 Why PREBIOTICS?
GOS & FOS (9:1)
A resilient immune system is essential for overall growth and development of an infant. However, the infant's immune and gastrointestinal system are still in the developing phase, especially in the 1st year of life, making them vulnerable to allergy, respiratory ailments and GI infection. Research suggests that Prebiotic GOS:FOS in the blend of 9:1 ratio have a significant role to play in building infant's immunity and for allergy management.
PREBIOTICS!
3rd LARGEST COMPONENT OF HUMAN MILK
Human milk is the ideal source of nutrition conferring various health benefits to the infant owing to its unique & complex composition.
Components of human milk that support infant immunity comprise of PREBIOTIC oligosaccharides, beneficial bacterial species such as Bifidobacteria and Lactobacilli in addition to the other macro and micronutrients.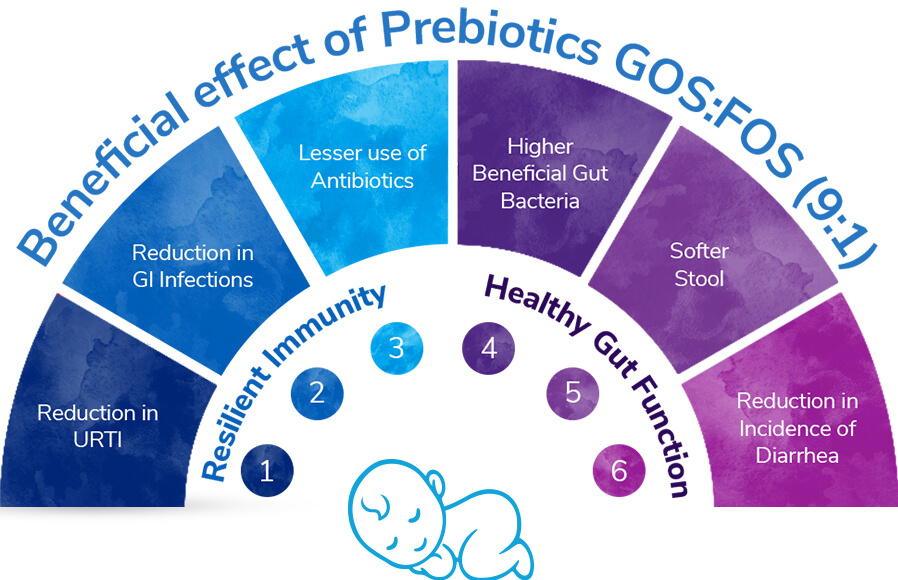 Beneficial effect of Prebiotics
Resilient Immunity
2
Reduction in
GI Infections
Resilient Immunity
3
Lesser use of
Antibiotics
Healthy Gut Function
4
Higher Beneficial
Gut Bacteria
Healthy Gut Function
6
Reduction in Incidence
of Diarrhea
Publications
Influence Of Maternal And Socioeconomic Factors On Breast Milk Fatty Acid Composition In Urban, Low-income Families
Author: Nayak U, Kanungo S, Zhang D, Ross Colgate E, Carmolli MP, Dey A, Alam M, Manna B, Nandy RK, Kim DR, Paul DK.
Journal: Maternal & child nutrition. 2017 Oct;13(4):e12423
DOI: 10.1111/mcn.12423
Polyunsaturated Fatty Acid Consumption And Concentration Among South Indian Women During Pregnancy
Author: Dwarkanath P, Muthayya S, Thomas T, Vaz M, Parikh P, Mehra R, Kurpad AV.
Journal: Asia Pacific journal of clinical nutrition.
DOI: doi/10.3316/ielapa.3130
PREBIOTICS, GUT,
IMMUNITY & MORE
Test your Knowledge
1. What according to you, affects the infant gut microbiota the most?